TINY&mighty – Movement & Sound to empower toddlers

TINY&mighty Movement & Sound is a weekly class to empower toddlers of anthroposophic playgroup Het Speelateljee and friends. An intimate supportive class aimed at expanding each childs range of physical and somatic play through dance-sound-voice-improvisation and developmental movement. We offer a clear experiential frame to encounter themes of space, time, touch, dynamics and rhythm whilst allowing physical freedom to explore a wide range of body senses and musicality. The class is influenced by movement & voice improvisation, dance theatre and contact improvisation. TINY&mighty is carefully structured and tuned to the group and the present moment, whilst each week builds on the previous. This is a fun opportunity for your child to feel good in their body, build physical and emotional confidence, honour their natural instinct and nurture their social being!
"wow this is sooo much more than just a dance class"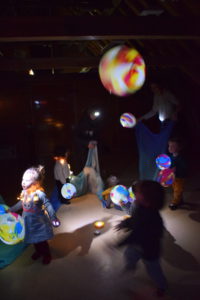 TINY&mighty Winter Soltice 2016                                            photo credit: Yoo Mi Lee

WHAT YOU can expect for your child:
* a fun, physical way to connect to their body & others through voice & movement
* autonomy within a clear structure
* playful space for your child to explore their body, space & rhythm & their creative instinct
* warm & supportive environment
* guidance from a teacher, dancer, researcher of more than 20years experience & a mother
* a beautiful studio space – light, clean & child friendly – 15mins from central station
WHEN/WHERE:
Dates: New course starts mid-sept 2018, Amsterdam west, check Agenda for info.  *Please note TINY&Mighty toddlers is a private class, but do not hesitate to make contact if you like to know about future classes or to host a similar course. Please send an email to sarah.k.gardiner@gmail.com
*For TINY&mighty toddler & parent workshops – more info                                                                                                                                             TINY&mighty is led by dance artist and mother Sarah Kate Gardiner, assisted by toddler Noah Benjamin Ray. This methodology has been tested during a research period and developed further through feedback and dialogue with engaged parents & toddlers. First born as a mama & baby group in 2014, co-initiated with Jasmin Hasler. This class is loosely inspired by the book 'The Continuum Concept' by Jean Liedloff.
?Questions?: sarah.k.gardiner@gmail.com
More info: www.sarahkategardiner.com