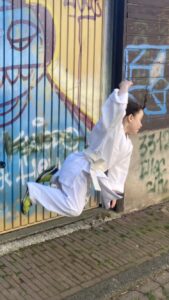 Ninja School – Course 6x workshops // Ninja Moves – Taster Workshop
What's your Super Power?
For Ages 6-12 yrs
Language English/Dutch
Ninja school is a fun & physical workshop that sharpens your magical senses to become a shape shifting Ninja.
We learn from nature and the invisible world.
Together we flow like water, explode like fire & dissolve into thin air.
Discover your Super Power and dance through The Matrix!
Ninja School is appropriate for kids cultural programmes, kinderopvangs and private parties. It was well recieved at Studio Remo's family festivals and the alternative cultural venue Kinderpret @Occii. Sarah Kate is a community dance artist, performer, teacher and mother. She trained in youth theatre leadership, directed several youth dance companies and since 25 years has evolved her movement workshops with people from all walks of life.