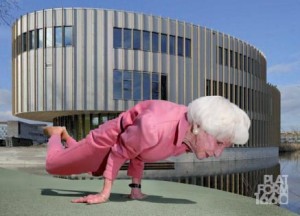 Concept & Direction: Sarah Kate Gardiner & Léon Beckx

GENERATION GAP?
PLATFORM 1660 is a cross-generation community dance project bringing 16 & 60 year olds together in a dialogue of dance. PLATFORM 1660 tickles the subject of ageism, focusing on simply people meeting people as an entrance, where elbows dance with knees and physical 'limitations' are used creatively. Not shy of difference, PLATFORM 1660 holds a space for dynamic energy to converse with subtle presence and for diversity to be celebrated. Leaders emerge and dissolve supported by the group … a sprightly mature woman, a shy young man the next and in certain moments we witness a touching dance of like-minded souls that know no age. Check our documentary here for a taster!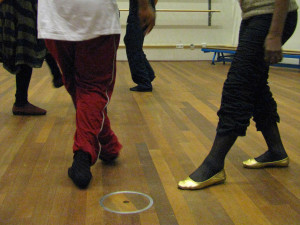 PLATFORM 1660 asks what moves different generations?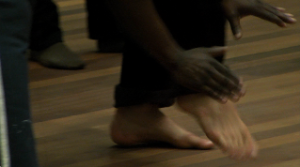 A DIALOGUE IN BODY LANGUAGE                                                                                   More than fifty neighbours, cousins, mums, sons, friends, strangers and community leaders from Amsterdam Southeasts most culturally diverse neighbourhood Biljmer met on the dance floor. The colourful Biljmer Parktheater was the setting for this series of weekly dance teasers, workshops and final performances. Sarah Kate and Léon developed the Dans Dialoog methodology to frame these physical meetings, developed from their research into structured dance improvisations, awareness training, group dynamics and team building. These building blocks of the workshop provided the foundation of the performance, supporting the local residents transition from dance studio to spot light. Through the unique language of their own bodies the dancers built trust and humour with each other, dancing through the awkward, the misunderstood, the joys and taboos of age. A wonderful core group of mainly young men and mature women took the exciting step to the stage!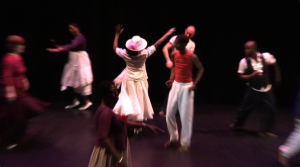 PLATFORM 1660 IN AMSTERDAM ZUIDOOST
PLATFORM 1660 started as a pilot in February 2010 in the Bijlmer Parktheater in Amsterdam South East, running for three months and culminating in a full length performance and further performances in the neighbourhood. The South East is the youngest city part of Amsterdam with a rapidly aging population and is the most diverse of the whole of The Netherlands with 120 different cultures and nationalities.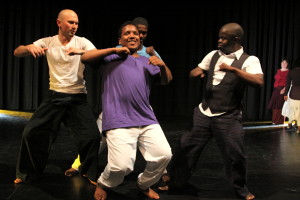 PLATFORM 1660 is realized in collaboration with the Bijlmer Parktheater, Krater theater Zuidoost and with support of the Oranjefonds. Léon Beckx is a trainer/manager for Diversity Joy and a dancer. Sarah Kate is a dancer, choreographer and teacher. They are both based in Amsterdam.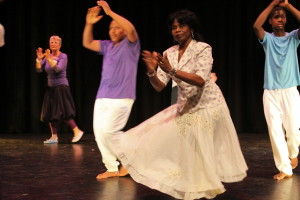 Hearty thanks to all those that took the step and participated or supported the project:
Performers: Marjory Braafheid, Carmen Córdoba, Thiezayro Córdoba, Mildred Ischers, Anita Johanns, Llewalyn Lelienhof, Rinia Overman, Collin Schorea, Cora Sluijmers &  Günes Uz                                                                                                                      Music composer: Erikk McKenzie                                                                                         Light: Raynold Colijn                                                                                                             Video Doc & Teaser: Saskia Habermann                                                                       Photos:  Archmed Peroti                                                                                          Supported by: Bijlmer Parktheater, Krater theater Zuidoost & Oranjefonds NL     
                                                     Platform 1660 VIDEOS                                                       Platform 1660 PHOTOS
Three Juicey 1660 Facts:
1. Our dear funder OranjeFonds selected PLATFORM 1660, one of five projects in the country, for their Annual Community Arts Symposium. 1660 gave workshops to cultural and community leaders in the presence of the Dutch royals, Queen Maxima and King William Alexander.
2. OrangeFonds changed their policy for funding applications. Due to PLATFORM 1660's innovative concept of art and community building, they now give equal measure to the importance of creative process/artisitc quality in balance with, and directly related to, the well-being of the participants. In addition, this new policy aims to stimulate and encourage more unique and creative applications from the world of community arts.
3. PLATFORM 1660 and the 'Dans Dialoog' methodology is a road map for community arts which has the flexible potential to empower and connect neighbourhoods whether the focus be cross-generational, cross-cultural, cross-class or any other crosses!
Get in touch if you would like to discuss a potential project tailor-made for your neighbourhood! Contact email: sarah.k.gardiner@gmail.com
* * * * * * * * * * * * * * * * * * * *