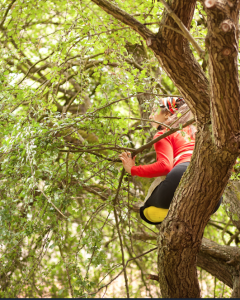 MARIA                                                                                                                                May 29 2011                                                                                                                        Pandhof, Saint Maria UTRECHT DANST FESTIVAL                                                   Director & Choreographer:  Sarah Kate Gardiner                                                               Dancers: Frederike Diepenbroek, Dipa Flohr, Annabel Garriga, Adriana Maya,  Leah Jacob, Wendy Jansen, Electra Kouloubi, Liesbeth Meulenberg, Claire Paulich, Meta Stevens
Music:  Marc Nukoop  (vocals Sarah Kate Gardiner)
MARIA is a magical site-specific performance for ten dancers, especially created for a cloister, a beautiful monastic garden in the heart of Utrecht for the Utrecht Danst Festival. This talented company from Dansimprovisatie Utrecht appear and dissolve as gardners from trees, colourful shrubbery, archways and an antique lampost. The dancers, floating like monks, whisper to rose bushes and contact duets emerge between a weeding gardner oblivious to the bugg on her back with limbs dancing in the wind. Whilst suspended in this timeless world our ears are treated to a blossoming sound score, echoes and layers of latin plant names transform to rich rythmns and dynamic drums. Out of the serenity and subtlety builds an explosive dance where the performers criss-cross space, leaping from nooks and crannies, and weaving their way through an unsuspecting audience!
Special thanks to Iris van Peppen, more info: www.dansimprovisatie.com
* * * * * * * * * * * * * * * * * * * *