Director/Choreographer, Performer, Designer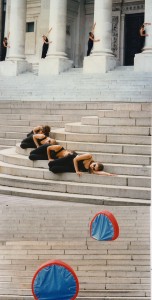 MT Gap Dance Company has grown a unique reputation for crafting tailor-made dance works for weird and wonderful locations. During 1995 to 2000 the company created location performances, residencies, workshops & large-scale community dance projects. Professional and community participants were brought together in intimate and large-scale productions both locally and internationally. Public and private spaces gave the company access to building new audiences with locations ranging from museum, to park benches and libraries.  Their company signature has always been to tease the what, where and for who of dance. As the only soley site-specific dance company in the UK they were sighted as case studies for the UK A' Level Performing Arts curriculum. MT Gap's final work 'Castle' (2000) was selected for The Year of The Artist by the Arts Council of England. 
MT Gap was originally founded by Katy Lee, Karen Mc Bride and Sarah Kate Gardiner, later to be joined by Justine Reeve(s) and guest performer Lucy Griffith. The original members first met performing together in the site-specific peformance Up On The Roof (1995) directed by choreographer and architect Andrew Fifield, from the Julyen Hamilton Dance Co. The work was created for Portsmouth's notorious Tricorn Centre, an infamous icon of 60's brutalist architecture.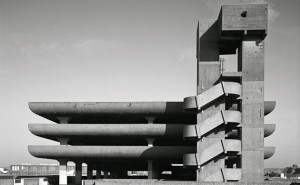 This experience fired up their passion for location work leading the three dancers to create and specialise in site-specific dance works as the collective MT Gap, later in 1997 to become a partnership between Katy and Sarah Kate. All the members have since gone on to build successful careers in dance as; choreographer, performer, teacher and educational dance examiner.
Commissioned & supported by: Portsmouth City Council, Arts Council of England & City of Caen, France. Festivals & Commissions: Millennium Commission UK 2000, Year of the Artist Residency UK 2000, Summer Arts Across Portsmouth Festival 1996-2000, CAEN Artist & Community Exchange 1998-1999, CAEN Peace Festival France 1997-1999, ShoreLines Literature Festival UK 1998, International Womens Festival UK 1997, One World Festival 1997, Prime Movers Dance Festival 1996
MT GAP DANCE COMPANY 1995-2001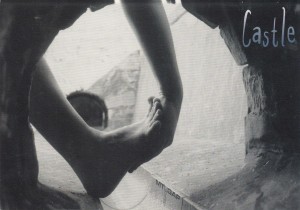 Castle                                                                                                                         Guest Director Andrew Fifield                                                                                   Purbrook Castle residency & performances, Hampshire                                                        YEAR OF THE ARTIST PROJECT supported by The Arts Council of England
UK Aug ´00
photo to come
Ladderbacks
Large–scale en promenade performance for sea front historic ruins, foot bridge & tunnel
Intergrating professional & community performers in dance, voice, sound & art installations  Commissioned for PORTSMOUTH CITY MILLENNIUM CELEBRATIONS                     Southsea seafront, Portsmouth
UK summer ´00
photo to come
Taking Stock
Dance Theatre Spectacular for chateaux grounds.                                                    Directing performances & workshops for youth groups from low income families       twinning UK & french communities in a cross-cultural exchange                                    Portsmouth & Paulsgrove UK, Le Chateaux Ducal & Calvaire St. Pierre districts                  CITY TWINNING SCHEME & CAEN PEACE FESTIVAL 'A CAEN LA PAIX'
UK & France ´98-´99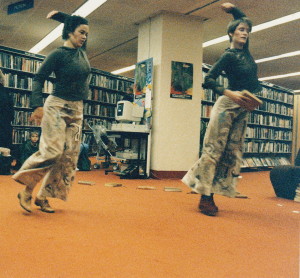 Between The Lines                                                                                                      THE YEAR OF READING, library tour:
Basingstoke Central Library                                             Mar ´99
Gosport Library SHORELINES LITERATURE FESTIVAL   Nov ´98
Salisbury Library
Portsmouth Central Library                                              Oct ´98
SUMMER ARTS ACROSS PORTSMOUTH FESTIVAL     Aug´98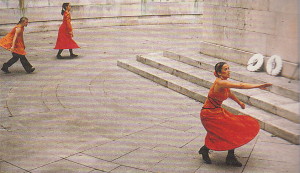 Hand-spans Across The Ocean                                                                                        created for war memorial (UK), apartment block and cathedral gardens (FR)
Commissioned by CAEN PEACE FESTIVAL & SUMMER ARTS ACROSS PORTSMOUTH Guildhall War Memorial & City of Caen A Caen La Paix France                                         UK & France ´97
photo to come
Lock Up Your Daughters
Commissioned by INTERNATIONAL WOMENS WEEK
Basingstoke Lime Quarry, ONE WORLD THEATRE FESTIVAL
Wesley Community Centre                                                                                      Cascades Shopping Centre, Portsmouth
UK Feb-June ´97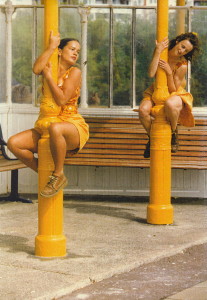 I Quite Like Fish Myself                                                                                                    For Victorian Bandstand & Bench Shelter
SUMMER ARTS ACROSS PORTSMOUTH South sea Promenade
UK Aug ´96
photo to come
Watery Kiss
For museum & ornamental gardens
Portsmouth City Museum SUMMER ARTS ACROSS PORTSMOUTH
UK Aug ´96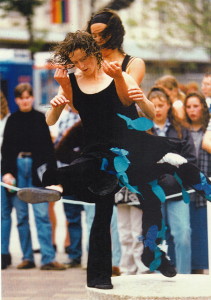 Unplugged Trilogy
For townhall, park & fountain
Guildhall, Victoria Park & Commercial Rd Highstreet
PRIME MOVERS DANCE FESTIVAL
UK June ´96
 * * * * * * * * * * * * * * * * * * * *