Concept/Direction: Jochen Stechmann and Birgit Wieger                                                 Performers: Yvonne van den Akker, Robin Berkelmans, Floris Dahlgrun, Luc van Esch, Naima Ferre, Sarah Kate Gardiner, Matias Daporta  Gonzales, Laszlo Kalpscik, Jakob Proyer, Philippe Rives, Sergio Moya Rueda, Jochen Stechmann, Rocco Vermijs, Birgit Wieger  
Since joining Signs in 2013 Sarah Kate has performed in Festival Over Het Ij, Amsterdam Central Station, Festival Dans La Rue, France, Spoffin Street Arts Festival, NL, PUNCH! Festival For New Choreographic Talent, Melkweg Theater and Culturele Zondagen Festival, Utrecht.                                                                                                                               
SiGNS: Guerilla                                                                                                                 Be surprised by powerful guerrilla interventions of five dancers in public space. Their choreography is based on the semaphore flag alphabet, a communication system from the maritime world of the 19th century. How do we use the signals to position ourselves? How are we positioned by signals?
Archive of Forgotten Signals                                                                                    Come and explore this brand new communication device based on human-FMS*. You can use our flag-messengers to signal your own messages into the world . Or let our flag dancers surprise you with their energetic interventions in public space!                                * flag messaging service
Flag Messenger APP
With the Flag Messenger APP you can send with your IPhone unlimited animated FMS messages in flag semaphore. Your message of a maximum of 25 signs (letters and numbers) is encrypted into an animated GIF image and then send to the receiver's email account as a mail attachment. You can choose an image style (male/female) and switch the subtitles on/off.
For more info about SIGNS check: www.signsnet.org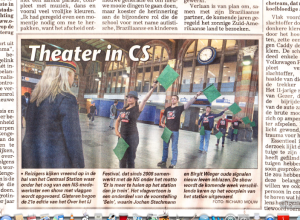 * * * * * * * * * * * * * * * * * * * * *