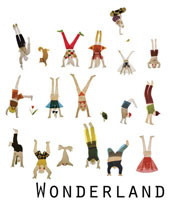 Wonderland (2006-to date) is a performance in which children are invited to actively participate, be stimulated, expand their own curiosity and talent, and create their own world in a playful way. Since summer 2013 Sarah Kate Gardiner is very happy to be invited as guest dancer/performer.
Wo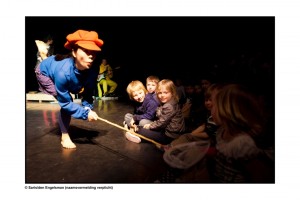 nderland is a music and dance performance aimed toward children and their parents including interaction with the young audience. The performance moves from being for the children to being with the children and offers them a carefully guided theatrical adventure. It is a special experience for their parents as well as they watch the transition of the child from viewer to performer. By creating Wonderland performances we want to offer an alternative to the mainstream form of entertainment by focusing on the potential of the child's creativity versus the child seen as a passive consumer.
Monthly performances in 3 totally different type of locations in Amsterdam:
OT301(since 2006)

Since 2006, we started Wonderland in OT301 ( Amsterdam West), The place Wonderland was born. Through music and dance, this underground space becomes " Wonderland".
Maarten Luther Kerk/church (since 2009)

It is completely different space than OT301, or other theater space. High ceiling, acoustic sounds are beautiful here. The space gives us and children different creative stimulus.
Pleintheater (since 2010)

"Open Nieuwe Duren! Wonderland in Pleintheater" is a new Chapter of Wonderland, to establish monthly performance series as a new art platform for children and family in Oost Amsterdam and performances in a real " theatre" setting.
  * * * * * * * * * * * * * * * * * * * *
* * * * * * * * * * * * * * * * * * * *