Dance Workshop for tiny people 2-6yrs & their adullts

---
TINY&mighty is a dance workshop to empower tiny people 2+ and their adults through movement & voice improvisation and physical play. We explore our senses, say hello to SPACE, RHYTHM and TOUCH. How can this lead us into our dance – solo and together? We close with the power of being seen, an invitation to be performer or audience. TINY&mighty supports every child to feel at home in their body whilst relating to others in a fun dialogue of dance. Whether we move together or our little ones follow their own path, we stay present to each sound and movement, all welcome as dance partners. A fun and safe oasis for child and parent … a little piece of the village we all seek!
" more than just a dance class …"
TINY&mighty – celebrating connection
TINY&mighty is a community dance project offering tailored workshops to empower young children, (&) parents, care givers, kindergardens, community initiatives, educational institutes and children festivals.
To book a workshop or course and to discuss your needs please email: sarah.k.gardiner@gmail.com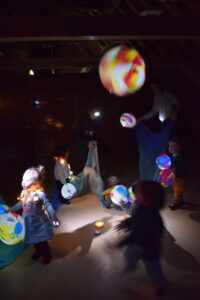 PAST
TINY&mighty is led by dance artist and mother Sarah Kate Gardiner and has evolved with the generous and wise input of many toddlers, parents, carers and artists. First born as a mama & baby group in 2014, co-initiated with mother/theatre maker Jasmin Hasler. It's grown with workshops for toddlers & parents/carers and a 3yr course for the youngsters of anthroposophic kindergarden Het Speelateljee with feedback on child developement and well-being from their carer Olga Middendorp. Pop up workshops & courses have taken place all over Amsterdam for family festivals and kids programmes at alternative spaces: studio ReMo, OT301 and Kinderpret @Occii.
Since 1995 Sarah Kate co-creates community dance projects that aim to resonate with humanity, collaborating with people 0-70 yrs, beginners and experienced, from all walks of life. She has a diploma in Youth Theatre Leadership, directed two youth dance companies, and led dance projects for many youth intitatives, working with young children, under priviledged youth and teenagers.
---
~~~~~~~~~~~~~~~~