" Sarah Kate was an excellent (dance/capoeira) tutor and really fired up the enthusiasm of our students, regardless of their ability … To the point that we had to ask several students to stop performing on the return boat to the UK!"
Rebecca Hunt,
Director of Performing Arts, Orpington College UK
Sarah Kate is passionate about education and the art of pedagogy and is an advocate for the enormous benefits of dance and movement. Free from a singular aesthetic idea of physical 'perfection', she holds a space to empower each student to discover their uniqueness and root them in the physical world. Since 1995 she has been invited to teach her innovative workshops for educational institutes, youth initiatives, festivals, dance/theatre organisations and social projects. She teaches her workshops all over europe through her own projects and independent organisations, amongst others, Dansimprovisatie Utrecht & Amsterdam (NL) and Equity Performing Arts Tours (UK). DI U&A promotes dance improvisation as a performing art, providing a platform of weekly classes, workshops with international guest teachers, exchanges, showings and site-specific performances. Equity Tours offer performing arts trips across Europe in Italy, Spain, France and recently Amsterdam! Their dance workshops are delivered by highly experienced dance tutors who are established practioners working as performers and choreographers, many at the top of their field.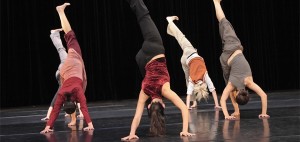 With her vast experience teaching and directing young people and adults, Sarah Kate has created innovative courses and performance projects, as well as dance/fitness for wellbeing. She teaches Instant Composition, site-specific performance, Contact Improvisation, dance/Capoeira, contemporary, release technique, voice & movement and previously urban dance. Her workshops are strongly grounded in technique with a clear focus given to developing each students personal movement language.

With a Diploma in Youth Theatre Leadership, she previously directed two UK youth dance companies, delivered the Dance A' Level Curriculum at Havant College and spent many years working with the community arts initiative 'Dot To Dot' delivering her workshops and performance projects for underprivileged youngsters. Her professional company MT Gap (1995-2001) created large scale location projects for diverse ages and worked with youth from disadvantaged backgrounds, including a community exchange with City of Caen, France, for the A Caen La Paix peace festival. During a tour of South Africa she assisted in delivering dance workshops for social projects in Cape Town townships and District 6. Her ambitious project Platform 1660 brought young people in dialogue across the generation gap, with workshops and performances of 16 and 60 years olds communicating in the language of their bodies.  At the anthroposophic institute Bernard Lievegoed College of Liberal Arts in Holland, she lead an intensive dance course for teenagers in movement research and self-development. 
The transformation she has been honoured to witness over the years has not only revealed improvements in students creativity and physical technique, but also general health, self esteem, mental stability, social skills and an ability to focus and sharpen general learning. Sarah Kate is motivated by the fact that dance and movement is still such an unexplored area for unlocking enormous potential and talent in people, especially youth who have been failed by other systems of education. By honouring each individual, she aims to align them with their own empowered core compass capable of intelligent navigation and unique creativity.
Beyond the professional & novice, Sarah Kate aims to inspire people of all walks of life. During the Occupy movement she gave a series of free dance workshops at the camp on the streets of Amsterdam where campaigner, tourist, media professional and local resident gathered to participate, surprising duets arose including tourist and neighbour, a homeless man and journalist from a national newspaper.
Sarah kate is an agent of dance, motivated that our head heavey modern communities are ripe for moving!
For more info on her workshops please check here and performance here.
* * * * * * * * * * * * * * * * * * * *